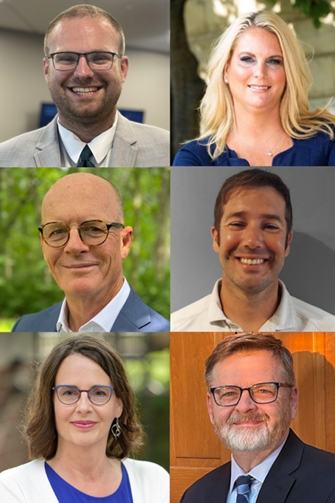 Austin Anderson, Assistant Professor, Interim Program Coordinator, Communication Arts, joins Judson's full-time faculty after spending the past six years as the Director of Athletic Communications at Judson University. During his time in this role, Anderson has received national recognition for his work and is a three-time top-10 finisher in the annual NAIA-SIDA publications/media contests. Anderson earned his M.A. in Strategic Communication and Leadership from Spring Arbor University in May 2021. He earned his B.A. from Waynesburg University (2017) in southwestern Pennsylvania with a degree in Communications: Sports Broadcasting/Sports Information. Anderson served as an official scorer and alternate play-by-play announcer for the Schaumburg Boomers independent baseball team from 2018-2019. Anderson has taught Introduction to Sports Broadcasting/Sports Information, Questions of Life: Entering the Judson Conversation, Foundations of Speech, and Wellness as an adjunct professor within Judson's Demoss Center of Worship in the Performing Arts since 2021. In his new role, Anderson will teach public speaking, communication, media, and sports broadcasting while also advising students within the Communication Arts Program.
Dr. Ashley Mitich, Associate Professor, Master of Arts in Clinical Mental Health Counseling Program, is from the southwest suburbs of Chicago. Dr. Mitich is an Associate Professor of Counselor Education and Supervision. She received her Doctor of Education and Masters in Marriage and Family Counseling from Governors State University. She has been actively involved in counseling organizations across the country. Dr. Mitich has served as President for the North Central Association of Counselor Education and Supervision and is currently the secretary for the Illinois Mental Health Counselors Association.
Jeff Price, Associate Professor and Department Chair of Business received an MBA from the University of Michigan and a B.A. from DePaul University.  For more than 13 years at Kraft General Foods, Price held roles in brand management, promotions, in-store marketing, and sports and event marketing, where he managed KGF's Olympics sponsorship.  He was Vice President of Strategic Planning for Frankel, Co., and led its sports marketing and entertainment marketing groups. He has been a management consultant to Fortune 500 companies, advertising/promotion agencies, and non-profits. He served as an adjunct and Associate Professor at Trinity International University for 19 years, teaching economics, marketing, management, and ethics classes.
Sean Stochl, Visiting Pro-rata Assistant Professor of Exercise and Sport Science, has been involved with multiple community colleges and four-year institutions in Illinois and out of state. He holds master's degrees in Exercise and Sport Psychology, Sport Management, and Education and a bachelor's degree in K-12 Physical Education. Currently, Stochl is completing his Ed Doctorate. This will be his fourth semester at Judson University.
Wendy VanderNoordaa, Visiting Pro-rata Assistant Professor of Interior Design, began her teaching career in 2010 as an Instructional Assistant Professor of Interior Design for Illinois State University where she received several competitive grants for her work with Civic Engagement. In 2015, Wendy participated in a Reinvent Your Course for Diversity cohort at Illinois State University. She has taught as an adjunct professor for Judson University since 2017. She holds a Bachelor of Arts degree from Judson University in Psychology and a Master of Science degree in Interior and Environmental Design from Illinois State University. Professor VanderNoordaa teaches a variety of courses including The History of Interiors and Furnishings, Building Systems, and Studio.  Her professional affiliations have included IDEC and IIDA. She is a LEED GA-accredited professional.
William Young, Visiting Pro-rata Assistant Professor of Business, has been an adjunct professor at Judson since January 2020. Young graduated with a Bachelor of Science from the University of Illinois (Biology) and later completed an MBA (Honors) from The Lake Forest Graduate School of Management. He worked in the industry for more than 40 years with increasing responsibilities in Manufacturing, Quality Systems, Product Development, Operations, and Scientific Technology until retiring from full-time work in 2019. As a result of God's grace over his career, Young's approach to business matured and he saw significant success as a collaborator and influencer over a global operations network. During his career, he developed a passion for encouraging, mentoring, and challenging individuals in personal development, integration of faith, and management.