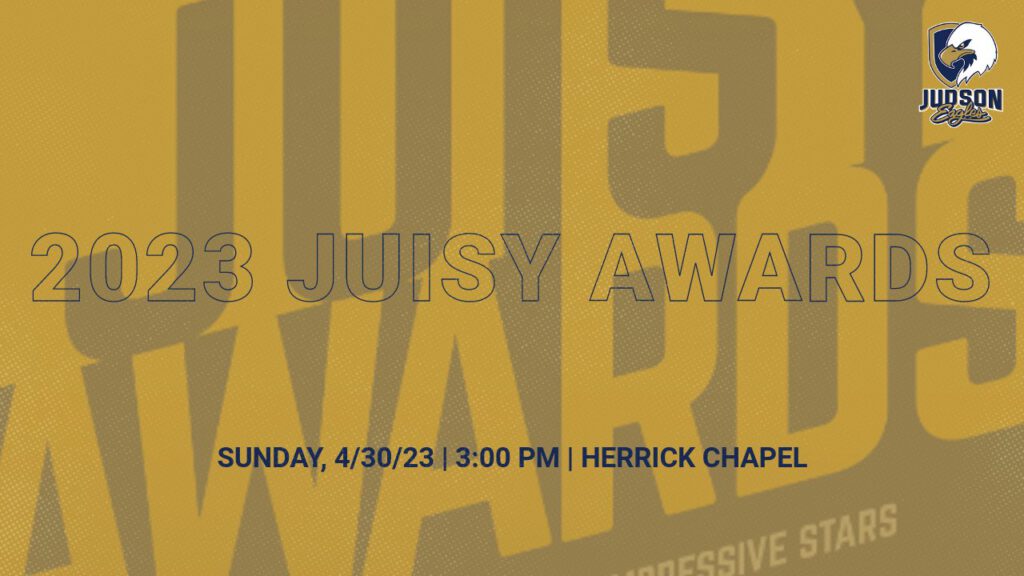 The Judson University Impressive Stars of the Year (JUISY) Awards will transpire on Sunday afternoon at 3:00 p.m. in the Herrick Chapel. The doors will open at 2:30 for our athletes, coaches, family, and friends who would like to attend the ceremony. Attire is expected to be "red carpet" formal. 
For those who cannot attend, the event will be live-streamed on the Judson University Youtube Page.
The event will include a team recap of each of our 20 athletic programs as well as announcing the winners of 16 different awards recognizing the efforts of our student-athletes for the 2022-23 year. This year's ceremony features two new sets of awards. The Faith in Action Award and the People's Choice Award.
The nominees are listed below:
Women's Champion of Character
Neena Dingillo- Women's Bowling
Catherine Hegewald- Spirit Squad
Stephanie Naskrent- Women's Soccer
Delia Tachney- Women's Basketball
Alyssa Gerzel- Women's Volleyball
Sophie Schomer– Softball
Men's Champion of Character: 
Thomas Antonson- Men's Bowling
Seth Gould- Men's Basketball
Kyle Braund- Men's CC/T&F
Negil Bruce- Men's Football
Greg Geake- Men's Volleyball

Women's Best Individual Performance 
Paige Carpenter- Women's Bowling
Thasla Barkman- Women's Soccer
Carly Scheblo- Women's Basketball
Lindsay Lawlor- Women's Volleyball
Taty Chavez– Softball
Men's Best Individual Performance 
Thomas Donati- Men's Basketball
Blaine Hunt- Men's Bowling
Samuel Chavez- Men's Soccer
Mathis Fauchet-Poli Men's Tennis
Dylan Bledsoe- Men's CC/T&F
Brandon Mackey- Men's Football
Elijah Gregg- Men's Volleyball
Women's Faith in Action Award 
Marisa Garcia- Women's Bowling
Ashley Gutteridge- Spirit Squad
Shelsea Cardenas- Women's Soccer
Haven Beyer- Women's Basketball
Emmaline Davey -Women's Volleyball
Naomi Sweeney– Softball
Men's Faith in Action Award 
JR Dismuke- Men's Basketball
Tom Antonson- Men's Bowling
Jerez Rinehart- Men's Tennis
Kyle Braund-Men's CC/T&F
Josh Hazelwood- Men's Football
Brendan Gibbons- Men's Volleyball
Women's Newcomer of the Year
Paige Carpenter- Women's Bowling
Cassandra Uribe- Women's T&F
Isabella Cornejo- Spirit Squad
Ashley Portell- Women's Soccer
Easton Kimball- Women's Basketball
Carolina Cosme – Women's Volleyball
Amaya Chavez- Softball
Men's Newcomer of the Year
Javaris Wiggins- Men's Basketball
Blaine Hunt- Men's Bowling
Dylan Bledsoe- Men's CC/T&F
Jackson Otto- Men's Volleyball

Women's "People's Choice" Award
Ymani Britt- Women's Volleyball
Kelly Leon- Women's Soccer 
Stephanie Naskrent- Women's Soccer
Sydnie Wolf- Women's Basketball
Men's "People's Choice" Award
Brendan Gibbons- Men's Volleyball
Brandon Mackey- Football
Elijah Wrobel- Men's Volleyball
Gabriel Trevisan- Men's Soccer
Women's Breakthrough Athlete
Michele Chancey- Women's Bowling
Thasla Barkmann- Women's Soccer
Alyssa Gerzel- Women's Volleyball
Braly Wiser – Softball
Men's Breakthrough Athlete 
Jack Keller- Men's Basketball
Will Barnes- Men's Tennis
Elijah Gregg- Men's Volleyball
Women's Athlete of the Year
Paige Carpenter- Women's Bowling
Cassandra Uribe- Women's T&F
Kelly Leon- Women's Soccer
Sydnie Wolf- Women's Basketball
Emmaline Davey- Women's Volleyball
Amaya Chavez- Softball
Men's Athlete of the Year
Javaris Wiggins- Men's Basketball
Blaine Hunt- Men's Bowling
Dylan Bledsoe- Men's CC/T&F
Brandon Mackey- Men's Football
Elijah Wrobel- Men's Volleyball
Women's Doc Ryder Scholar-Athlete of the Year
Brandy Stewart-Women's Bowling
Samantha Brackenrig- Women's Tennis
Baylee Stringer- Spirit Squad 
Alondra Blanco- Women's Soccer
Haven Beyer- Women's Basketball
Alyssa Gerzel- Women's Volleyball
Sarah Herbert– Softball
Men's Scholar-Athlete of the Year
Anterrious Rhyan- Men's Basketball
Owen Farish- Men's Bowling
Gabriel Trevisan– Men's Soccer
Maximilian Fortun- Men's Tennis
Chase Ashcraft- Men's CC/T&F
Damon Mueller- Men's Football
Brody Solbrig- Men's Volleyball