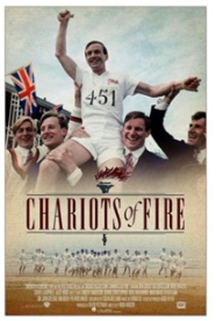 Judson students, staff, and faculty are invited to view the award-winning film Chariots of Fire next Tuesday evening, February 28,  from 6:30- 8:30 p.m. in Thulin Auditorium in Thompson Hall in celebration of the 100th anniversary of Eric Liddell winning the gold medal in the 1924 Paris Olympics. There will be a short Q&A time following the film. The film will also serve to provide background for this Spring's World Leaders Forum on March 21, featuring Scots Sir James MacMillan and The Lord Smith of Kelvin, KT CH, Robert Haldane Smith in partnership with The Eric Liddell Community, a charity founded in 1980 in memory of Eric Liddell.
Who was Eric Liddell, besides an Olympian who ran for Scotland in the Paris Olympics? Eric Liddell was a devout Christian who ran for a purpose – to bring glory to God. He said that God made him fast and that he "felt God's pleasure" when he ran. Eric eventually became a missionary to China after the Olympics.
Chariots of Fire was nominated for seven Academy Awards and won four, including Best Picture, Best Original Screenplay, and Best Original Score for Vangelis' electronic theme tune.

Join us next Tuesday to view this excellent film and be inspired by Eric Liddell's courage and character to stand up for his God-given convictions under intense pressure to capitulate.