Jacob Wallin joins the Judson University Athletic Department as interim Head Men's Volleyball Coach effective immediately.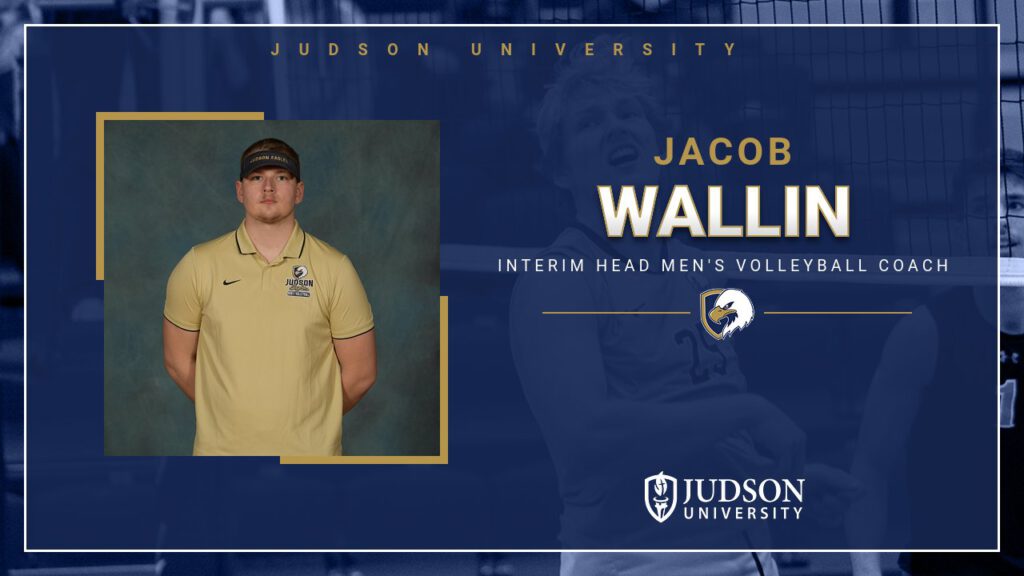 The Loves Park, Ill., native served as the lead assistant coach during the magical 2022 season where the Eagles won a program-best 25 games, including a 12-win conference slate that won the Eagles the CCAC North Division Title. Judson also reached the CCAC conference tournament title match for the first time in program history. Judson's 15-match winning streak from January 15 to February 17 is also a school record.
"The three words to describe my vision of the program are positivity, passion, and effort," said Wallin. "I want all of my athletes to develop on the court as they work toward graduation. I am looking forward to the future of Judson Men's Volleyball and having the current team and future recruits buy into the process."
The former middle blocker currently serves as a Coach at Sky High Volleyball Club in Crystal Lake, Ill., where he coaches several teams in the 16–18-year-old range. He previously served as the Junior Varsity Head Coach and the Varsity Assistant Coach at Woodstock High School in Woodstock, Ill.
"In the short time I have been able to get to know Coach Wallin I have been impressed by his willingness to serve others, his commitment to his faith and his passion for Judson Volleyball," said Athletic Director Rick Williams. "It is never ideal to be in a position to make a sudden coaching change, however, we are blessed to have a highly capable assistant prepared to step in and fill the leadership role. Coach Wallin begins his tenure with the full support of the Athletic Department."
Wallin has been a part of every team in program history as he was a charter member of the 2017-2018 recruiting class out of Rockford Boylan High School and played in its first game in 2018. Wallin is the program record holder in total blocks (227), block assists (168), and solo blocks (59). Additionally, he is second in program history in total games played with 373 and third in total kills with 545. His 110 games played in the 2018 season is a program best for a single season. Wallin served as a three-year captain for 2019, 2020, and 2021 seasons. He graduated in 2021 from Judson with a degree in psychology. Wallin is a student in Judson's Master of Arts in Clinical Mental Health Counseling Program where he is expected to graduate in May of 2024.