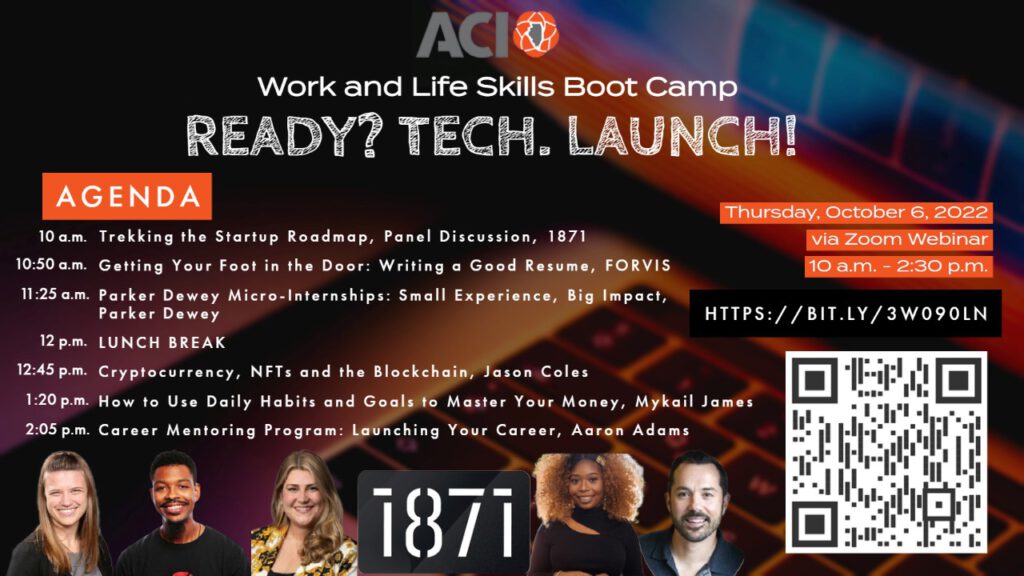 Registration is now open for Ready? Tech. Launch!, ACI's Work and Life Skills Boot Camp, Thursday, October 6. This is a great opportunity for students at ACI-member colleges and universities to learn more about careers in tech or fintech! From a crypto chat to tech talk, this virtual career readiness event is open to college students and recent alumni from all majors and interests from one of our 26 member colleges and universities throughout the state.
Ready? Tech. Launch! Agenda
10 a.m. – Welcome and Introduction
10:05 a.m. – Trekking the Startup Roadmap: A Panel Discussion, 1871
10:50 a.m. – Getting Your Foot in the Door: Writing a Good Resume – Katie Lenz, FORVIS
11:25 a.m. – Parker Dewey Micro-Internships: Small Experience, Big Impact – Kristin Schrader, Parker Dewey
Noon – Lunch Break
12:45 p.m. – Cryptocurrency, NFTs and the Blockchain – Jason Coles, Katika
1:20 p.m. – How to Use Daily Habits and Goals to Master Your Money – Mykail James, Boujie Budgeter, LLC
2:05 p.m. – Career Mentoring Program: Launching Your Career – Aaron Adams, Mentoring Complete
Associated Colleges of Illinois' Work and Life Skills Boot Camps deliver high-quality, intensive pre-employment skills and relevant information to juniors and seniors enrolled at ACI member colleges and universities. All students are welcome to attend. However, the content is specifically designed for low-income, first-generation degree-seekers and/or students of color — students who may not have sufficient personal and professional networks and shared family experiences to support successful career launches.
Developed with funding from a Council of Independent Colleges' First Opportunity Grant, the Boot Camps advance the efforts of member institutions to prepare disadvantaged students to obtain post-graduation employment, launch careers, and establish financial stability for themselves and their families.
Date/Time: October 6, 2022 10:00 AM in Central Time
To register for the event, click this link: https://bit.ly/3f2Qs7D