Midwest Opera Theater and the Demoss Center for Worship in the Performing Arts are proud to present Another Sunrise by Jake Heggie on Saturday, April 23 at 7 p.m. in Thulin Auditorium. This one-woman opera is based on the life of a Polish Jew who survived the Holocaust and imprisonment in Auschwitz.
Internationally acclaimed soprano and Guest Artist in Voice at Judson University Dr. Maria Kanyova will perform this moving 30-minute opera. Accompanying her on piano will be her husband Dr. Robert Kania, chair of the Music Department and Professor of Piano at Judson.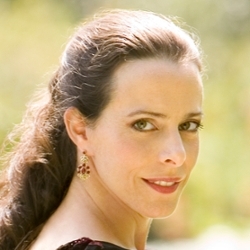 Critics have hailed Maria Kanyova as an extraordinary singing actress. Robert Trussell of the Kansas City Star wrote of her portrayal of Pat Nixon, "Her voice could stop time." Throughout Maria's extensive and busy performing career, she has performed leading roles with the Chicago Lyric Opera, San Francisco Opera, Houston Grand Opera, Los Angeles Opera, Dallas Opera, and the New York City Opera, along with many other prestigious opera companies. As a voice teacher and celebrated soprano, Maria is currently an Associate Voice Professor at the University of Missouri-Kansas City and a Guest Artist in Voice at Judson University.
Recently Maria has bridged her passion for singing and teaching voice together in her creation of Midwest Opera Theater (MWOT), a mobile opera company, www.midwestopera.com. Here she is committed to giving young singers and community members performance opportunities with seasoned operatic professionals and presenting these collaborations in cities and venues where opera might not ordinarily be performed. August 2019 marked the first season for MWOT. This year marks the return of MWOT after a pause in producing opera during the pandemic months.
This performance of Another Sunrise is free of charge however there will be an opportunity to give a charitable donation to World Vision for Ukrainian Child Relief after the performance through a free-will offering.