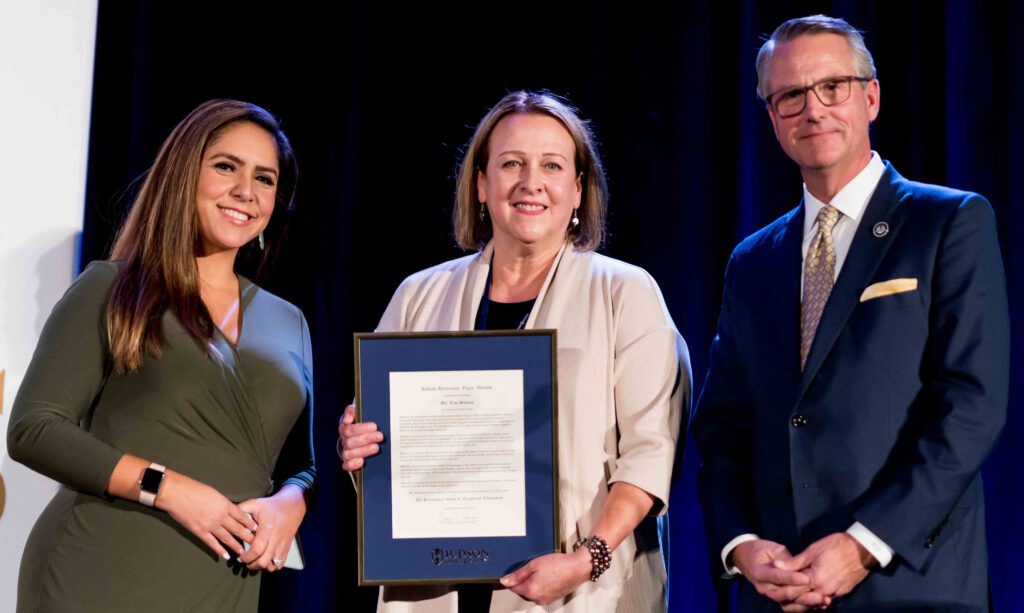 Judson University's President Dr. Gene Crume recognized the significant career of independent niche publisher Lisa Stamos when it awarded her with the 2021 Presidential Award of Excellence during the World Leaders Forum held at the Schaumburg Renaissance on November 5.
Called a media trailblazer by fellow journalists, award-winning publisher Lisa Stamos founded Quintessential Media Group (QMG) in 2005 to create media that relates to and honors the people of the community—offering a reflection of all that's good within, and a platform to support what great things people accomplish as a community. She has served as a Commissioner of the Village of Barrington as a member of the Barrington Cultural Commission since its inception more than 12 years ago.
"Lisa's impact on her profession is significant, and for Judson University to recognize her with this honor is well deserved," said Judson University President Gene Crume. "We believe she is has been a positive influence for business leaders, a difference-maker in the community she serves, and an inspiration for the students at Judson University."
Stamos possesses a depth of knowledge on the value of the nonprofit sector, and her published material includes stories that educate, inspire, and encourage communities to do good work. QMG's flagship title, Quintessential Barrington, has earned signature magazine status for the greater Barrington area. It is the "go-to" resource for local events and information and boasts a readership of 80,000 in the greater Barrington area.
Prior to creating QMG, Stamos was a licensee of the Woman's Newspapers™. She launched McHenry County Woman Newspaper™ in 2003 and sold it in 2006. The last issue, which was printed before her newspaper was sold, featured an 18-page special report that was the first local and in-depth look at the impact of domestic violence in the county. Citizen and local business response to the article generated enough financing to sustain the opening of the domestic violence agency Turning Point's shelter. The facility was built but had unfunded operating expenses in 2006 when this report reached the market. The shelter opened in the months following the report and has remained open since with the exposure given through her groundbreaking report.
"Media is powerful. It can change our culture for the better, connect people, strengthen business ecosystems, and help local organizations grow," Stamos said when accepting the honor in front of hundreds of attendees of the World Leaders Forum. "Since 2003, it has been a privilege to produce hyper-local media that is a game-changer for issues that people care about."