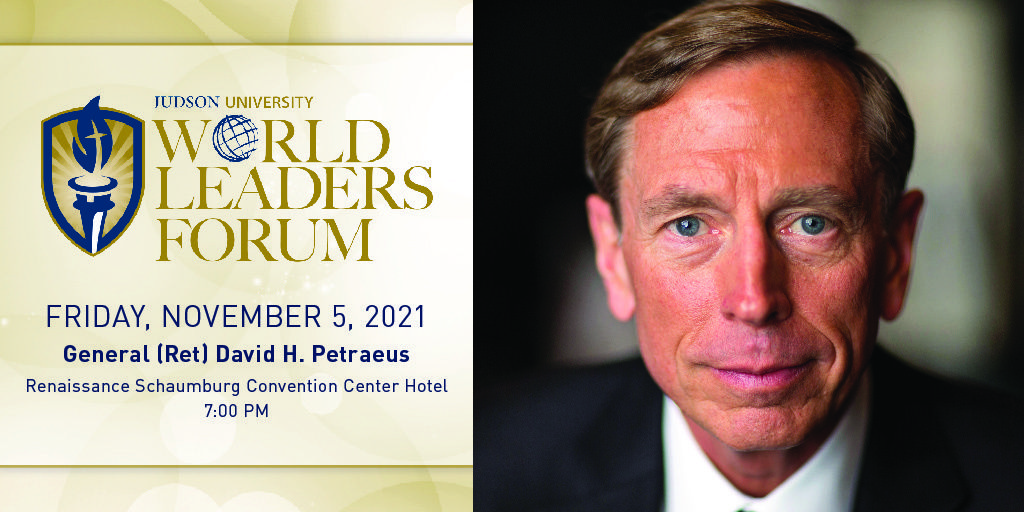 Judson University will host the next World Leaders Forum on Nov. 5, 2021. Headlining the event is foreign policy expert and retired General David Petraeus. Originally scheduled as the 2020 keynote speaker, Petraeus will mark the return of the World Leaders Forum and its 10th anniversary. Notably serving as commander of U.S. forces in Iraq and Afghanistan and later director of the Central Intelligence Agency, Petraeus is among the most recognized military leaders of the post-9/11 era. Distinguished Judson University alumnus Mark Vargas, who met Petraeus while serving as a civilian in Iraq, will moderate a Q&A session with the general.
The 2021 World Leaders Forum will be held in again in Schaumburg at the Renaissance Schaumburg Convention Center Hotel.
A VIP reception will be held prior to the event at 5 p.m. with appetizers, networking, and meet-and-greet opportunities with General Petraeus.
Tickets for the event start at $75 ($50 for Veterans). Click here to learn more about registration and sponsorship options.
Faculty and staff can save $25 by using the promo code JUFAMILY
This year marks the 10th anniversary of this signature event, which brings some of the world's most significant thought leaders to our community. Judson University looks forward to delivering the full World Leaders Forum experience in 2021. For more information, visit http://www.worldleadersforum.info.