Judson's Golf Program Celebrates Players Accomplishments
Freshman Brighton Young finished second overall at the NCCAA National Championship with a 234 (+18). Young was the individual leader after the first day as she shot a 76. She finished the last two rounds with a pair of 79s and always was among the top-5 golfers in the standings throughout the tournament. Read more here.
Grace Haakenson was awarded the NCCAA's 2021 Dan & Kelly Wood Award Recipient for Women's Golf. Haakenson, a graduate student from Albertville, Minnesota, demonstrates her relationship with Christ daily, both on and off the course. She recognizes the gifts God has given her and is determined to glorify God in and through them. Haakenson has a heart for service, actively helping in her youth group and in the local community. The two-time NCCAA Scholar-Athlete majors in organizational leadership and holds a very high GPA. Read more here.
This tournament concludes the fall season for the Women's Golf Team.

Women's Soccer Is One Win Away from Securing CCAC Title
The Judson University Women's Soccer Team took another step closer to their first NAIA bid since 2011 as the Eagles defeated St. Francis by the score of 3-0 on Oct. 26. The team they must beat St. Xavier on Saturday to earn the CCAC Conference Regular Season Championship and an automatic berth into the NAIA Tournament. Tune in or come out to cheer the Lady Eagles on! Read more here.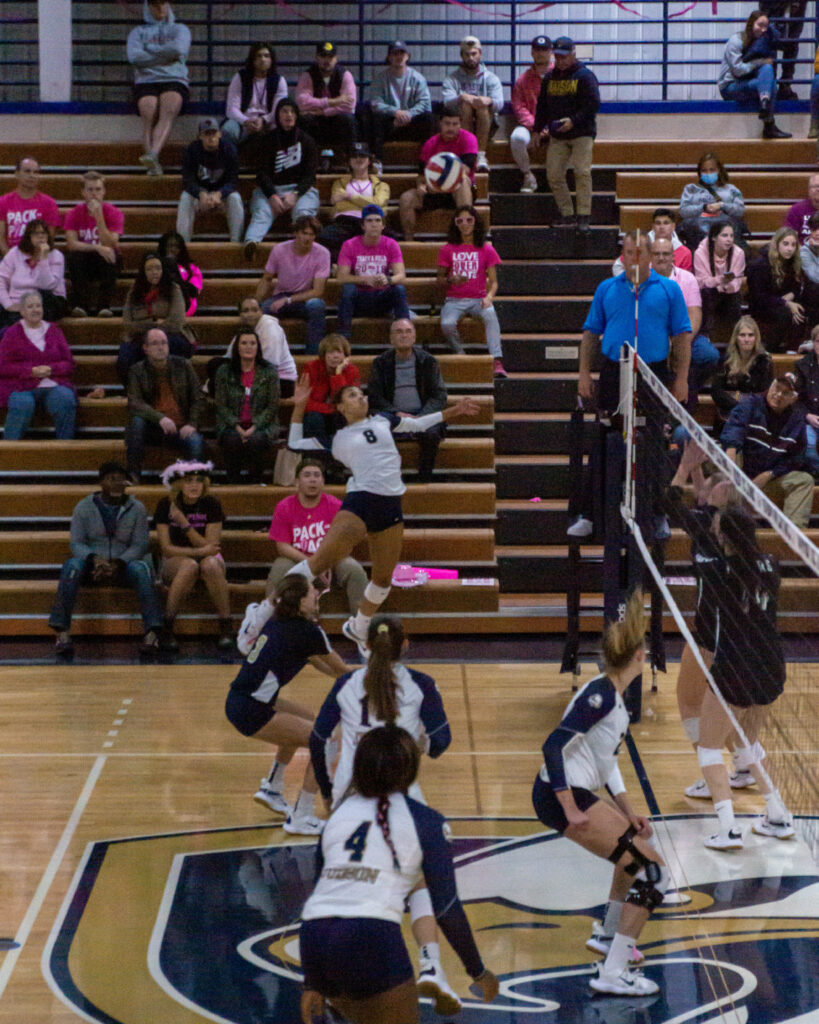 Congratulations to Judson's Women's Volleyball
Senior Natalie Kofie, logged her 3000th assist on October 26, making her 5th in program history with the highest amount of career assists. Kofie recorded 21 assists in total during the match with many more to come as the season is far from over. Read more here.
Come out this weekend to cheer on the Volleyball Team for Senior recognitions!
Saturday: October 30 @ 1:00 PM – Women's Volleyball Senior Day against St. Xavier Cougars
Football Hosted Last Home Game
The Judson University Football Team is now at .500 in conference play with its second home victory and its third win of the season with a 30-20 victory over Roosevelt. Last Saturday's game on Oct. 23 also marked the first-ever senior recognition, as offensive linemen Ryan Erickson and Wesley Thompson were honored by the school for their achievements in helping start the football program. Read more here.
Tune in or attend the game as Judson (3-5, 2-2 MSFA) returns to action October 30 as the Eagles face #21 St. Xavier on the road in Chicago.

Judson's Bowling Teams finish in Top 15 in Western Open
Judson Eagles Men's, Women's, and Women's JV Bowling teams competed this past weekend at the Western Open. Women's JV squad took home a fifth-place finish. Women's Varsity finished 8th, which is our third top 10 finish of the season. Men's Varsity took home a 15th-place finish. Read more here.

Basketball Will Have Season Kick-offs
Women's and Men's Basketball programs begin their season. With home games in the gym, Judson hopes the fans will come out to cheer on their teams!
UPCOMING HOME EVENTS:
Friday: October 29 @ 7:00 PM – Women's Basketball plays Home Opener against St. Francis Fighting Saints
Wednesday: November 3 @ 7:30 PM – Men's Basketball Home Opener against Lincoln College Lynx