Judson University celebrated with 108 students who graduated at the university's 84th commencement ceremonies held on Saturday, December 12, at Herrick Chapel on Judson's Elgin campus.
In the 10 a.m. commencement ceremony, 60 students graduated from Judson's Traditional Undergraduate and the Master of Education in Literacy (MLIT) programs. Forty-two graduates attended the event that had spaced the graduates six feet apart with Herrick Chapel. Family members who attended watched a simulcast of the event from classrooms around campus to provide appropriate health safety measures and limit the number of people in each room.
At the 2 p.m. commencement program, 48 students graduated from the Division of Professional Studies' Masters (MBA, Master of Arts in Human Services Administration and Master of Arts in Organizational Leadership) and Adult Undergraduate (evening adult students) Bachelor of Arts programs. Forty-three graduates and their families attended the ceremony where two students received special recognition during the ceremony.
Alexis Nguyen, a Management graduate from Pingree Grove, Ill., was awarded the Student Service Award-Traditional Undergraduate. This award is presented to the graduating senior who best exemplifies sincerity and dedication to Christ, excellence in academic achievement, and dedication to the goals and mission of Judson University. During her time at Judson, Nguyen took a full schedule of academics where she was a Dean's List honoree, competed with the Track and Field Team where she was a National Christian College Athletic Association scholar athlete and was active in the Judson Business Society and Judson Accounting Club. She served as a first-year mentor, a University Ministries producer and worship leader, and an advisor in the RISE Program. Nguyen served the community by founding Pingree Grove Cares and in Youth Outreach, a racial reconciliation group. While at Judson, Nguyen volunteered at the Kane County jail and as a Black Lives Matters coordinator. She served in the Wellness Center organizing private counselor led groups and is currently working toward her TEFL and a master's in Faith Based and Forensic Social Work.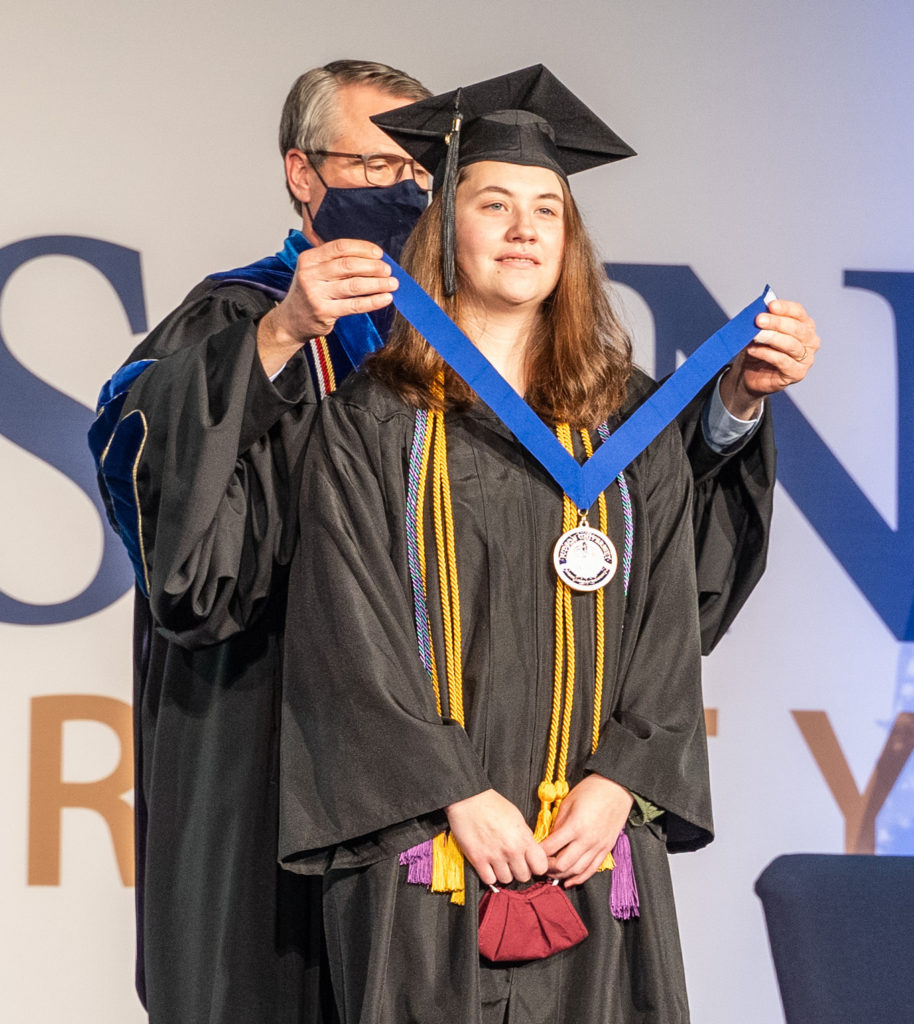 Ashley Chally of Algonquin, Ill., received the university's highest recognition for scholarship, the President's Scholar Award. This award honors the graduating senior in the traditional program who has demonstrated distinguished academic achievement in the context of a Christian liberal arts program and adhered consistently to Judson ideals. Chally has been on the Dean's List every semester. She is graduating with a double major in Mathematics and Education. Chally's faculty notes that she has an innate passion for learning, a trait that will serve her well as she completes her student teaching and prepares to begin her teaching career in January.
During the morning ceremony, Judson's leaders awarded Dennis Johnson of Rockford, Ill., with an honorary doctorate of Humane Letters. Johnson has enjoyed a successful career as a business leader and entrepreneur serving as Chief Executive Officer of the Johnson Group, a privately held award-winning company headquartered in Rockford, Ill. He founded and led Kids Around the World, an organization that has built over 925 colorful playgrounds, provided 38 million meals for families and held 701 training sessions for teachers around the globe. He founded Bibles for Kids, which provides illustrated Action New Testament Bibles in English and Spanish that have been distributed within the local community and overseas by short-term mission groups. He also has served on several boards that include Judson University, David C. Cook, and Rockford University. He was Chairman of SwedishAmerican Health System, Bibles for India, International Aid organization, the Bible League, John Guest Crusade Board and Bill Glass Prison Ministries.
In the afternoon, Judson's leaders awarded acclaimed pianist Huntley Brown with an honorary doctorate of Humane Letters. The Rev. Brown, a 1988 Judson, is a concert pianist and recording artist. Rev. Brown's inspiring piano talents have taken him around the world for performances on TV and radio, and in concert halls throughout Europe, China, South Korea, Russia, South Africa and the Caribbean. He regularly partners with some of Christianity's well-known ministries and is the pianist for the Ruth Graham and Friends Ministries. He also plays with the Franklin Graham team and has long been associated with the Billy Graham Evangelistic Association. Today, Rev. Brown teaches and offers seminars on music and worship for several organizations. He also serves as the artist-in-residence at Judson's Demoss Center for Worship in the Performing Arts, where he has led several outreach trips.