The Judson University Athletic Department had the distinct honor to present Dimitri Ingrassia with the NAIA Champions of Character Award. Dimitri is the first known athlete in school history to receive this award as only one athlete of the 249 NAIA schools receives this honor yearly.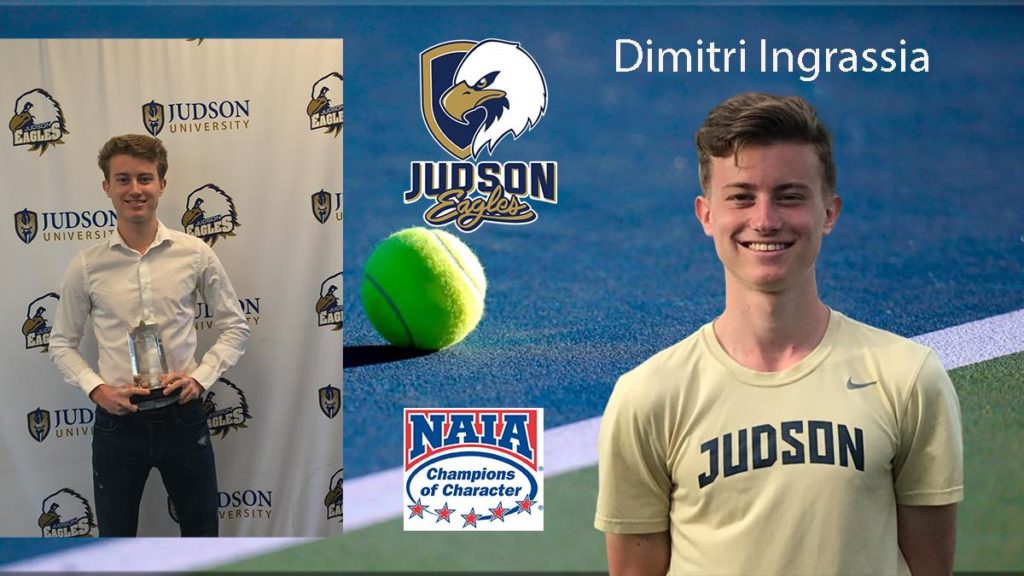 Dimitri and Judson Head Tennis Coach Chris Moment were invited as special guests to attend the annual banquet and awards ceremony in Kansas City. However, In the midst of the world health crisis, the NAIA decided to move forward with a virtual awards ceremony, and Dimitri was presented the award by Coach Moment this week.
"Dimitri has been a valued member and leader on our team for the last two seasons," said Moment. "Dimitri was given this award by the NAIA for his level of integrity that he has shown on the tennis court during some key matches last semester. I am blessed and honored to be a coach of such an amazing player who is continually working towards his fitness and tennis skills. He has most definitely raised the bar with the level of tennis that he brings to Judson."
Ingrassia was nominated for honestly ruling that a ball hit from an opponent landed inbounds after his opponents assumed that the ball was out of play. He could have easily taken the point, but Dimitri had the character to acknowledge that the ball was in play and surrender the point. Dimitri was also awarded the Judson University Athletic Department Male Champion of Character Award this past spring during the Athletic Awards Ceremonies held on campus.
"What a tremendous and well-deserved honor the NAIA Student of Character award is for Dimitri," said Director of Athletics Joel Popenfoose. "He is an excellent representative for Judson Tennis, Coach Moment, and for Judson University."
This is not the first student-athlete to receive a high character honor in recent years. Anali Cisneros received the Chicagoland Collegiate Athletic Conference's Leroy T. Walker Character award for her continued excellence in sportsmanship while competing. Judson also has been recognized as an NAIA Five-Star Character Institution on a yearly basis for the athletic department's efforts to build and encourage high-quality student-athletes.
The Judson University Athletic Department could not be prouder of Dimitri for receiving this honor!