Join us for the Demoss Center for Worship in the Performing Arts Christmas Concert of Worship on Saturday, December 5, 3 p.m.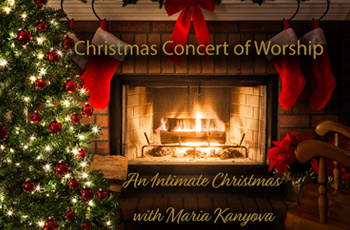 Dr. Maria Kanyova, internationally acclaimed opera soprano and wife of Judson Music Chair, Dr. Robert Kania, will delight the audience with Christmas songs and favorite Christmas stories gleaned from the Judson community. Friends of Judson will sell Christmas crafts, amaryllis bulbs, nuts, candy, and gift cards in the upper level of Betty Lindner Commons before and after the concert to benefit Judson students.
Live performances from various Judson students and alumni can be viewed in person in Herrick Chapel, with simulcasts of those performances to Creekside South Room 126 and Thulin Auditorium in Thompson Hall. Maria Kanyova will appear on the big screen in Herrick Chapel for a series of pre-recorded Christmas songs accompanied by the stories read by Judson Theatre director Prof. Kimberly Schmidt; these performances will also be simulcast to the other two venues. Audience members will be gently screened upon arrival and asked to wear masks for the duration of the performance.
Tickets will be available through Eventbrite.com. Ticket prices (plus handling fees) for each tier will be as follows:
$50 for Herrick Chapel,
$25 for Creekside South, Room 126
$10 for Thulin Auditorium and free overflow seating in the Science building.
To see the live broadcast, visit https://www.facebook.com/JudsonU/.