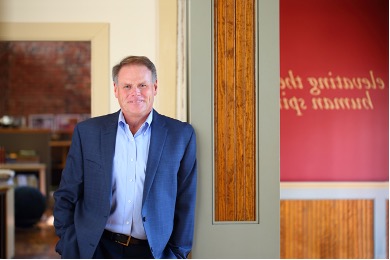 H. Randolph Holmes, president and Senior Principal at Glavé & Holmes Architecture will speak at Judson University's Founders' Day Celebration on Friday, October 23. The 10 a.m. chapel event with Homes will be broadcast live on Facebook so that faculty, students and the community can hear Holmes' comments.
Randy Holmes, originally from South Hill, Va., serves as president and Senior Principal at Glavé & Holmes Architecture (G&HA), an award-winning studio-based firm made up of close to 70 architects, interior designers, historians, and supporting staff. Holmes spent nearly a decade with Jaquelin T. Robertson's firm at their Charlottesville, Va., office. Holmes has received recognition from Architectural Digest and the Virginia Society of the American Institute of Architects, and American School & University. He also speaks at conferences throughout the country about the value and importance of architecture. Holmes is a member of Judson's Professional Advisory Council, which has members from all areas of the industry speak into the academic and career preparations offered through Judson's Architecture program.
"Randy's professional success, faith life, and community achievement is inspiring," said Judson President Gene Crume. "Having Randy with us on campus also emphasizes how Judson's architecture program has built strong relationships with the leadership of nationally recognized architectural firms."
Judson's Founders' Day celebration will include a gathering of Judson's Spiritual Council and the External Diversity Council in the morning, chapel featuring H. Randolph Holmes and a private luncheon. All meetings will provide appropriate safeguards and physical distancing, which is why the university's Founders' Day celebration events are by invitation only.