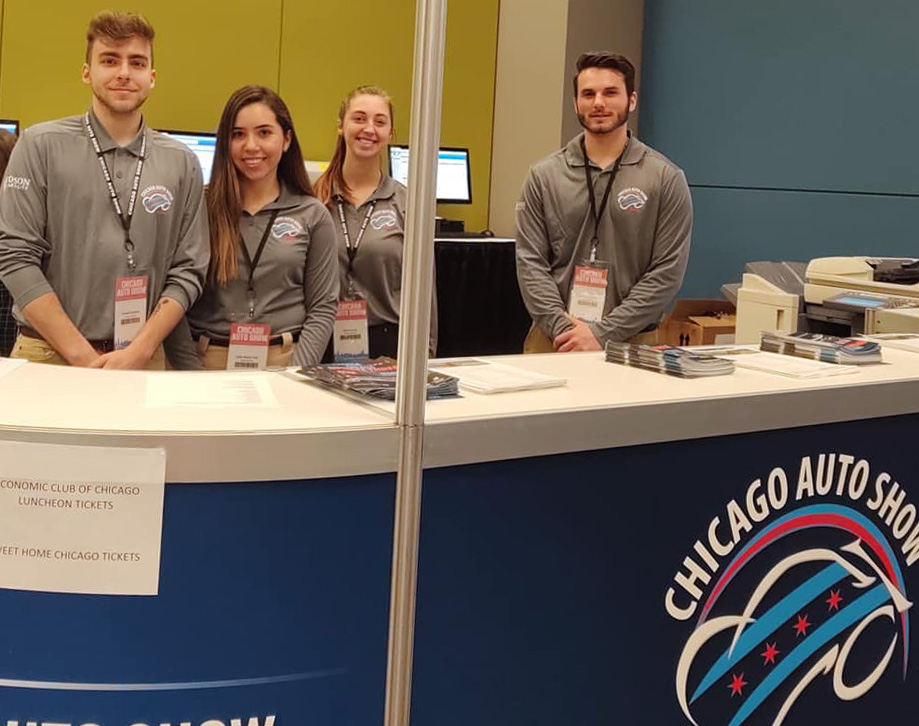 Judson University has the opportunity to provide interns with a once in a lifetime experience – working for the world's largest auto show located in Chicago.
The business department at Judson University has the privilege to be the only school to partner with the Chicago Auto Show. If you are looking for real-world business experience and networking opportunities, then this is the perfect internship for you. You do not have to be enrolled in the Business Program to apply.
"This internship opened many doors for me. I was able to network with a multitude of companies, which led me to receive a position with a dealership at the show," said a past intern.
At the Chicago Auto Show, Judson interns have opportunities that no other college students have. This includes exclusive events like Nissan Campaign Release, First Look for Charity Gala, Toyota Media Preview, etc.
Judson Intern responsibilities include assisting the media in the media center, pre-show tasks, security, logistics for media and public days, facilitating various events (ie. The Chicago Economic Lunch-In), creating and uploading social media content and working public days. The dates for the show will be Feb. 10-12 – Media Days and Feb. 13-21 are the Public Days (interns will select 2-4 Public Days to work).
Steps for the CAS Internship:
Apply for the internship at the Business Students page located on Elearn (On eLearn,search "Business Students" and the link to enter the course will be located on page 5).
Download and fill out your application.
Either drop your application off at Dr. Shotick's Office (Located on the 3rd floor, room 316, of LTOW) or scan and email your application to Dr. Shotick at [email protected] (Be sure to include "CAS Application" in the subject headline).
Interview Process.
If you are selected, there will be weekly meetings. Meetings will be on Fridays, starting after winter break.
For more information on the Chicago Auto Show: Chicago Auto Show.
The Judson University Business Department and the Chicago Auto Show have partnered for five years. Judson University's goal is to provide the Chicago Auto Show with future business leaders who shape lives that shape the world.