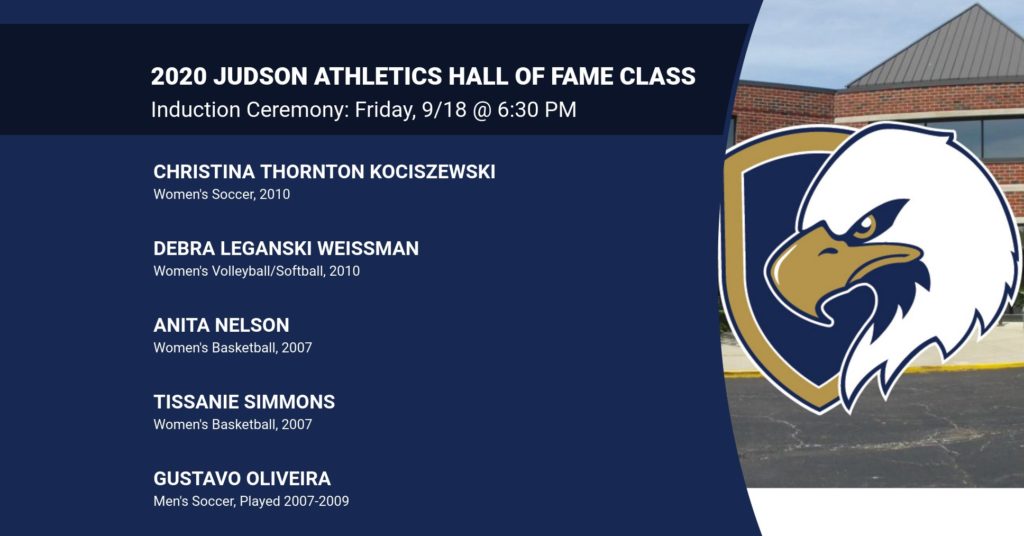 At Homecoming, Judson Athletics will honor the 2020 Hall of Fame Class inductees of Christina Thornton Kociszewski (2010, Women's Soccer), Debra Leganski Weissman (2010, Women's Softball/Women's Volleyball), Anita Nelson (2007, Women's Basketball), Tissanie Simmons (2007, Women's Basketball), Gustavo Oliveira (played 2007-2009, Men's Soccer).
Judson University will recognize these award members at 6 p.m. on Friday, September 18 in the Reed Room in Lindner Tower on the Judson Elgin campus. Due to statewide COVID-19 protocols, only the parties of the candidates will be allowed in the Reed Room. If you would like to watch the event, it will be live streamed on Judson University's Facebook Live.
Kociszewski is one of Judson's most decorated women's soccer players in program history. She scored the most goals in program history (79), is second in total points (181), and is seventh in assists (23). Kociszewski is a four-time CCAC First-Team All-conference member, a three-time NCCAA All-American, a three-time NAIA All-American Honorable Mention, a two-time Judson University Female Athlete of the Year, and was named 2006 CCAC Freshman of the Year and 2008 CCAC Player of the Year. Kociszewski was a key contributor to many milestones in the Women's Soccer program, including its first trip to the NCCAA National Tournament in 2006, the program's first CCAC Conference Tournament Championship in 2007, and a third-place finish at the NCCAA National Championship in the 2009 season.
Weissman is one of a few Hall of Famers to make a significant impact for multiple athletic programs. In women's volleyball, she is a three-time NCCAA All-region player and a two-time NCCAA 2nd Team All-American (2006 & 2007). In 2009, she was a CCAC All-Conference First Team Member and was honorable mention All-conference in 2006 and 2007. Weissman is first all-time in Judson history in digs with 2681 and digs per game with 5.74. She is third overall with 181 service aces. In softball, Weissman was a two-time NCCAA All-American, two-time CCAC first team, two-time NCCAA All-Region and a 2007 NCCAA National Tournament Team Member. Despite only playing two years, she is sixth in program history with 18 home runs. In 2008, she was the Judson University Female Athlete of the Year.
Nelson is one of 19 women's basketball players in program history to amass 1,000 career points as she finished with 1,017. She is top 15 in three-point field goals made (115), steals (205), and games played (122). She was a member of the Judson University Women's Basketball Teams that made the 2005 & 2006 NAIA National Tournaments, including a Sweet 16 appearance in 2005. Nelson additionally was the team's most improved player during the 2003-2004 season. Nelson was honored with All-conference honors for the 2006-2007 season and was NCCAA All-region honorable mention in 2005-2006 and 2006-2007, as well as CCAC All-Conference honorable mention in 2005-2006.
Simmons, like Nelson, was on the 2004-2005 and 2005-2006 NAIA National Tournament women's basketball teams, which included a 2005 Sweet 16 appearance. In those two seasons, Simmons achieved top-10 single season performances in assists (136 & 139) and steals (84 & 138). She also is the program record holder in those two categories with 376 career assists and 311 career steals. In addition, Simmons led the team in assists per game average during those two seasons with an identical 4.3 mark.
Oliveira made the most of his three years of action with Judson men's soccer. Oliveira helped Judson win the 2009 NCCAA National Championship, the 2007 NAIA Regional championship, and advance to the NAIA National Tournaments in 2007 and 2008. Oliveira participated on the Judson teams that claimed their fourth and fifth consecutive CCAC tournament championships in 2007 and 2008. Oliveira took home the NCCAA National Tournament MVP award in 2009 for his efforts on the national championship team. He is also a three-time NCCAA All-region Player and a three-time CCAC All-conference 1st team member. In addition, he is a two-time NAIA All-American honorable mention athlete. He was among the annual team leaders in points, goals, and assists. He is fifth all-time in career assists with 50.
Congratulations to these amazing athletes and alumni!