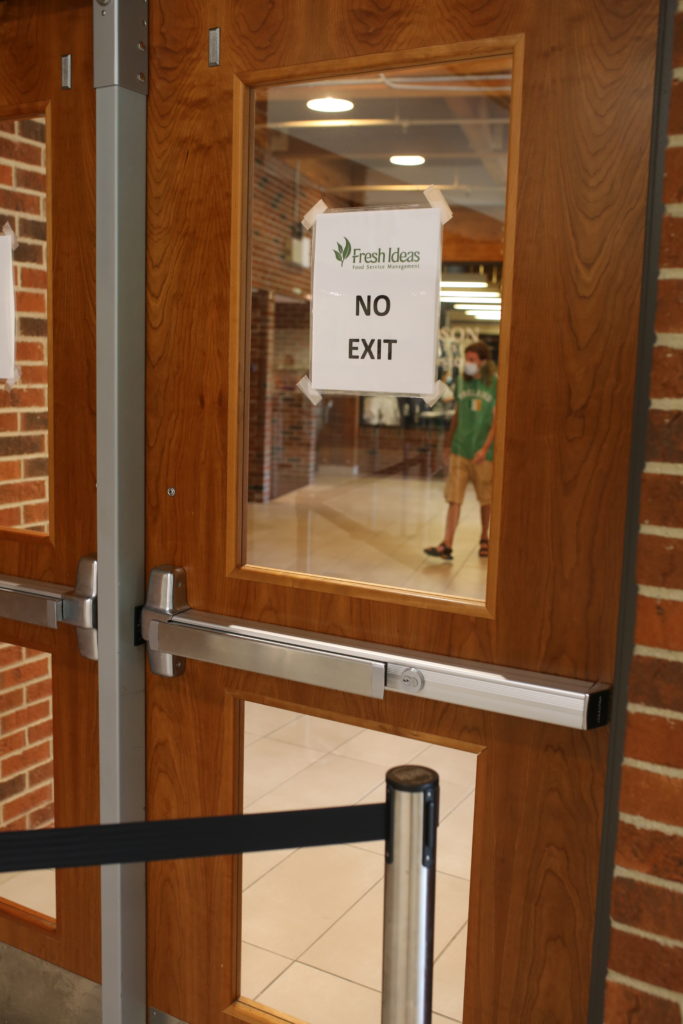 In light of reopening in an ever changing COVID world, Fresh Ideas Dining Services is here to make your dining experience as enjoyable as possible. Several changes have been made in the dining hall.
The dining hall will be operating on a first come, first served model this semester at all meals in light of COVID. Due to capacity requirements from the state of Illinois, we can seat up to 128 students at one time in the dining hall. Once we reach capacity students will either have to come back to the next meal period or they will have to get their meal to go.
We will be extending our meal periods to three hours over lunch Monday through Friday and will be adding an additional meal period at dinner on Sunday to accommodate everyone. Each meal period will be 45-minutes. Any students arriving 10 minutes before the meal period closes will be asked to take their meal to go. At the end of the 45 minutes anyone who is still in the dining hall will be asked to leave as we will need the next 15 minutes to clean, disinfect, and sanitize the dining hall before the next meal period.
For all self-service areas including beverages, desserts, and the ice cream machine, please sanitize your hands at one of the sanitizing stations located throughout the dining hall before self-serving.
If students would like to return to the meal line or refill beverages, please do not reuse cups or plates. Please return used plates and cups to the dish return and get a new plate and cup for refills.
Students are encouraged to arrive as close to the start of the meal period to ensure space in the dining hall at that seating. Social distancing requirement means lines will be long, so please plan accordingly.
Acceptable forms of payment at the dining hall as well as Riverside and Jerry's Cafe will be Eagle Bucks (located in MyJudson) or electronic payments. Cash payments will not be accepted until further notice. Students should follow these directions to purchase Eagle Bucks inside MyJudson. Judson faculty and staff should go here to purchase Eagle Bucks.
Entrance to the dining hall will be through the doors near the cashier station and exits will be through the doors to the patio. Please do not exit out the doors into the lobby of the commons. If you need to leave for any reason, please do so through the doors to the patio.
Students must wear masks at all times while in line and receiving their food and as they move to the seating areas. Masks may be removed only while seated and eating. Once students are done eating they must place their mask on before leaving the table. Any student who does not have a mask will not be admitted into the dining hall.
Due to staffing shortages and long wait times for the students, Fresh Ideas have had to move to self service at all meal periods. Based on guidelines from the State of Illinois through the Phase 4 Restore Illinois plan, "patrons may self-serve food if hand sanitizer stations are located at both ends of the buffet or self-service station and signage is posted to require hand sanitizing before each visit to a station."
Cashiers will tell students that they must use the hand sanitizer before going into the Dining Hall. Additionally, according to the guidelines "utensils used for serving should be changed hourly." Fresh Ideas is going above and beyond this protocol by replacing serving utensils every 30 minutes.
Due to COVID restrictions and guidelines, Dining Services is requesting that all guests enter with the sole purpose of eating a meal and exiting the dining hall promptly after finishing a meal. We ask that no meetings be held or studying takes place in the dining hall. No outside food will be permitted into the dining hall. The seating capacity is very limited and we ask that it be taken into consideration when deciding to dine inside of the dining hall.
Here are the full guidelines that Fresh Ideas is operating under.
https://dceocovid19resources.com/assets/Restore-Illinois/businessguidelines4/restaurantbars.pdf
Please direct any questions or concerns to Scott Brunsting.