Judson staff and faculty are invited to participate in this year's Global Leadership Summit (Aug. 6-7). Tickets are provided by the university and may be reserved by completing the Internal Registration Form at judsonu.edu/gls. Campus Offices will continue to be open while the event takes place virtually.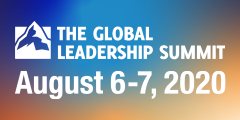 This two-day leadership enrichment conference will feature presenters such as Craig Groeschel (Senior Pastor, LifeChurch.tv), Kaká (2007 FIFA World Player of the Year), Beth Comstock(Dir. at Nike), Bishop T.D. Jakes (Senior Pastor, The Potter's House), Rory Vaden (Co-Founder of Brand Builders Group), and many more.
For questions about GLS at Judson, please contact Bret Koontz – [email protected].