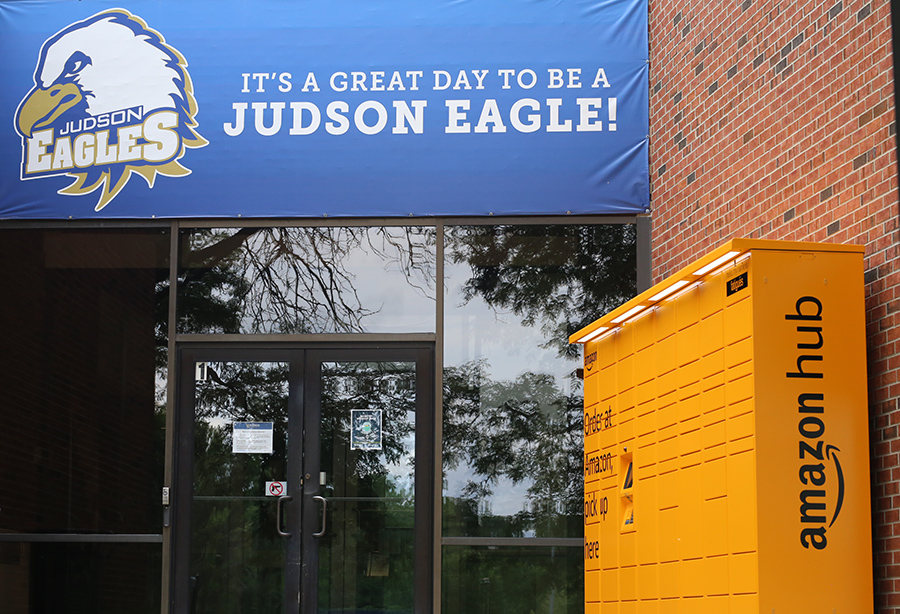 Judson University has partnered with Akademos for book sales with all offerings provided online. Upon logging into the Akademos website with MyJudson credentials, students will be able to see their courses and required materials all in one place. The Akademos marketplace allows students to purchase books at the best prices with a plethora of sourcing options available including major book resellers like Amazon.

With the addition of Amazon as a book purchase option, Judson has added an Amazon Locker outside the Lower Commons, which houses the Dining Hall, Judson Spirit Store, and Campus Post Office. The locker is accessible 24/7 for students to pick up all Amazon packages, many with same-day shipping and pick up options. As a student you can sign up for a Prime Student membership through Amazon for $59 per year.

Judson will open its new Spirit Store this summer. The Judson Spirit Store will include Judson branded spiritwear for athletics, a special line of branded items from new Judson Eagles logo designer Michael Figueroa, and a fair trade section in which all proceeds will be directed towards Judson's continued global outreach efforts. Judson is expanding it's partnership with Fresh Ideas, our food service vendor, to include refreshments and access to grab-and-go items in the store available for students to purchase with Eagle Bucks.