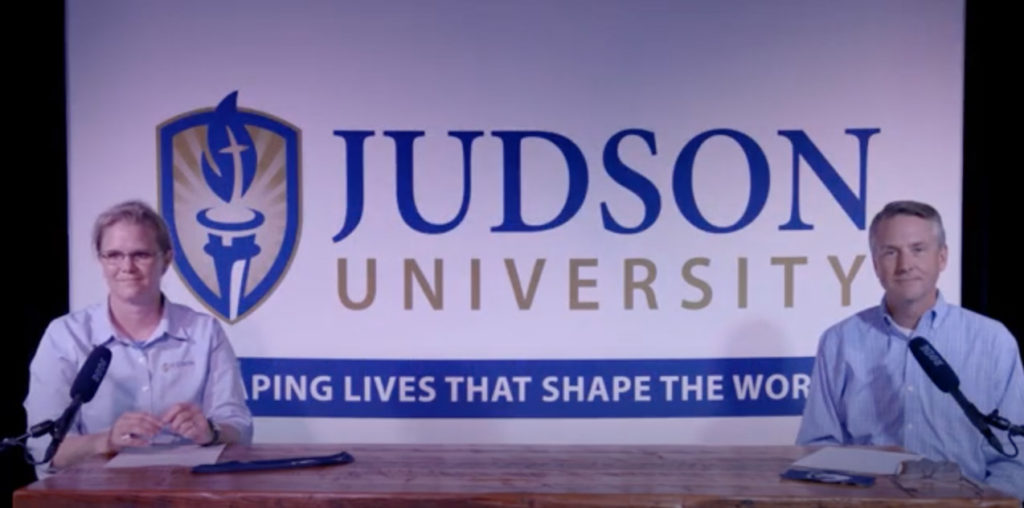 Learn the latest plans for the new school year through Judson's Facebook Live Series which started this week and continues through July. Judson President Gene Crume will talk with different Cabinet Leaders about how their teams are planning for new protocols to maintain safety standards within different areas of campus. See Wednesday's video with Dr. Crume and Dr. Nikki Fennern on Facebook or Judson's YouTube channel. (Videos will be posted as they are completed.)
Watch Next Week:
Wednesday, July 15 – 9 a.m. – Dr. Crume and Ginny Guth – Student Life
Wednesday, July 22 – 3 p.m. – Dr. Crume and Dr. Gillian Stewart-Wells – Academics
Wednesday, July 29 – 2 p.m. – Dr. Crume and Dean Aubree Flickema – Move in Times and Procedures and Welcome Weekend
Continue to rely on the JudsonU.edu/Coronavirus page for updated information. While final plans are not yet ready to share, we will use that website page as the one-stop place for information.