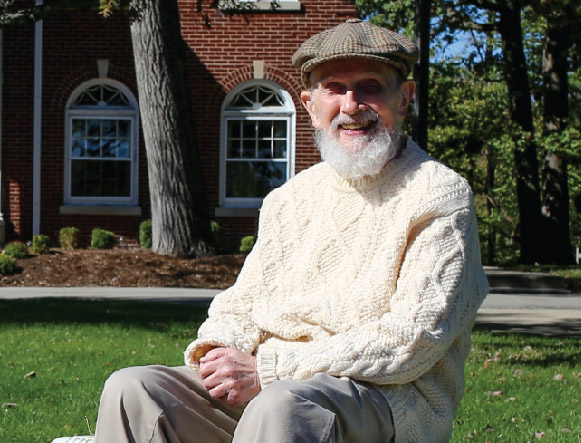 Dr. Stuart A. Ryder is always a friendly presence on campus. His smile is bright enough to light up any room. However, this gregarious man is not just any visitor of the campus commons, but has been a longtime faculty member, generous donor, and number one fan of Judson University for decades, and has served as Professor Emeritus since 2010.
This Yale grad started his journey with Judson in 1969 as an English professor. While a faculty member, Dr. Ryder also was essential to building the Communication Arts program. During his career he has chaired the program and led students both inside and outside of the classroom teaching Linguistics and Literature, as well as coaching the Cross-Country team and working as a men's trainer in the athletic department.
Dr. Ryder's love for the university also expands into his published books. Not only has he written advice for students in "Why Didn't I Get an A," but he has published works on Judson's first president Dr. Benjamin P. Brown and the missionary Adoniram Judson, who the school is named after.
Yet, Ryder's ties to the school go even deeper. He has lived on campus on and off for approximately four decades, and financially supports building projects and student scholarships to support the university.
Dr. Ryder has been inducted into the Judson's Sports Hall of Fame in 2004, received the Golden Eagle Award in 2009, and been awarded the "50 Years of Judson Service" honor in 2018.
Judson University is so thankful for all that Dr. Stuart A. Ryder has contributed to the school and wants to honor all that he is done. We hope he feels celebrated on his special day. Happy birthday Doc Ryder!