This year, Judson announces the nominees for both the D. Ray Wilson and Bea Wilson Youth Volunteer Service Awards. Both awards will be presented in the Fall at a future Judson University event since the university's annual Prayer Breakfast was cancelled due to the COVID-19 pandemic.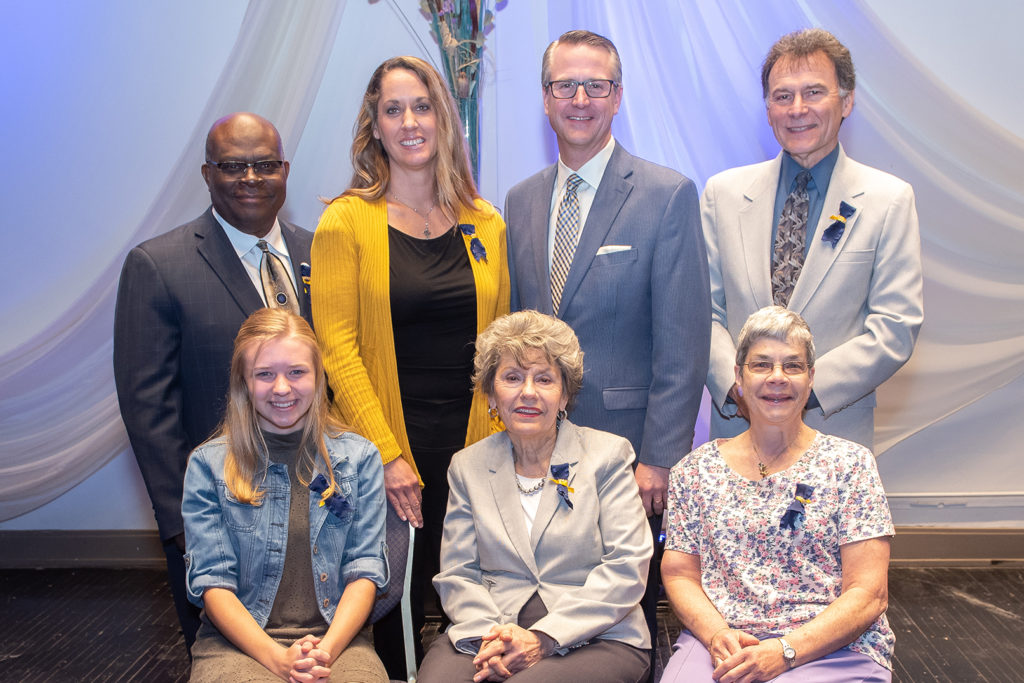 The D. Ray Wilson Volunteer Service Award is awarded to the adult candidate who has contributed to the greater good within the Fox Valley community by voluntarily serving others' physical, emotional, intellectual or spiritual needs. Last year, Judson created a new award and scholarship to recognize the community service work provided by high school freshmen, sophomores and juniors in the Fox Valley.
Here are the 2020 D. Ray Wilson Volunteer Service Award nominees:
STAR DUTCHER of Elgin, Ill., teaches at Westminster Christian School. At Westminster Christian School she was a Community Outreach leader and Business Club leader. She has worked for 14 years to serve the homeless by providing meals through a ministry at Vineyard Church. She provides oversight from area students who also assist with that ministry. She also is an active volunteer at her church, where she provides worship music. Star is a Judson University '91 alumnus and was joined the Judson Hall of Fame for women's basketball in 2005.
JEORGE HOLMES of Elgin, Ill., has spent most of his adult life serving others in ministry, education and through his musical gifts. Jeorge has served in full-time pastoral ministry for 27 years with two churches in California and two in Elgin, including Highland Fellowship Church and Highland Christian Academy. For the last eight years, Jeorge established and led "Love Elgin Day" which partners with 40 churches, 30 businesses and city service groups to provide health and other services to thousands of community members as a faith-based effort to demonstrate the love of Jesus. Jeorge also provides vocal entertainment for many nonprofit and Christian organizations around the Northwest and Chicago area, has been a guest speaker, and professionally coaches those facing trauma/transition. Jeorge graduated from Judson in 1989 and is an adjunct faculty at Judson University.
The Bea Wilson Youth Volunteer Service Award recognizes freshmen through juniors in high school for voluntarily performing community work that serves others' physically, emotionally, intellectually or spiritually. The Bea Wilson Youth Volunteer Service Award winner will receive a $3,000 scholarship annually to attend Judson University. The 2020 Bea Wilson Youth Volunteer Service Award nominees are:
JONATHAN BRANSCOM of South Elgin, Ill., is a sophomore at Westminster Christian School, an usher at his church. At Westminster, he also is a teaching assistant for hip hop, student director for the pep band, and was a member of the Jazz Select in Fall 2018. He received Westminster's Master Musician Award in Spring 2020.
RJ GREEN of Carpentersville, Ill., is a junior at Westminster Christian School. At school, he provided music for church services and helped create the bulletin and power points used for weekly church services. RJ was an honor student, a Pep band student director and music arranger, section leader for the Symphonic Winds and Percussion, writer of the month in February 2020, master musician of the month in January 2020 and nominated by his peers to lead the sophomore class lip sync competition. RJ also received the "Best of the Day" solo award at Roselle Fine Arts Festival.
TIMOTHY SCHULD of St. Charles, Ill., is a sophomore and high honors student at Westminster Christian School. He served the athletic programs at Westminster by organizing and cleaning the gym and gym equipment each week. Timothy regularly visited seniors at Highland Oakes Retirement Center and assisted with the "After Care" program at Westminster. He provides yard work for Willow Creek Community Church and volunteers with Feed My Starving Children and the Boys and Girls Club of Elgin. He also is a Student Council Athletic Assistant.