The Judson University Athletic Department experienced a fall season of successes that has never been seen in the 56 years of Judson's storied history and plans to celebrate by recognizing these athletes between the Women's and Men's Basketball games on February 5 at Lindner Fitness Center. The women's basketball game begins at 5:30 p.m. and the men's basketball game begins at 7:30 p.m.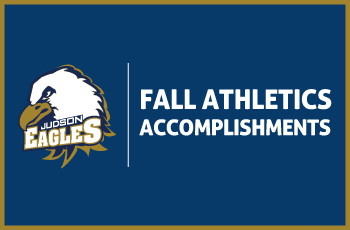 Every fall sport with NCCAA Championships had representation from Judson University on an individual or a team qualification. This has never occurred for the Eagles since the beginnings of Judson Fall sports in the 1967-1968 academic year.
Four Judson teams advanced to NCCAA Nationals. The Women's Cross Country team competed in the NCCAA National Championships on November 16 in Point Lookout, Missouri, as a team for the second consecutive year and the fifth time in the last six seasons. Judson's two top runners, Chloe Burkhardt and Marie Mayer participated in the NAIA National Championship in Vancouver, Washington, the week following.
For the second consecutive year, Judson's Men's Soccer Program earned an NCCAA National Tournament berth in early December at Kissimmee, Florida. The Eagles have made a total of 21 NCCAA National Championship appearances and have six national titles. Judson went into the NCCAA National Tournament as the North Central Region representative.
The Women's Soccer team made significant strides this season as they made their first NCCAA National Tournament in seven seasons. Judson improved their win total by six games in 2019. The Eagles represented the North Central Region at the tournament in Kissimmee, Florida, in early December by defeating Greenville on November 20.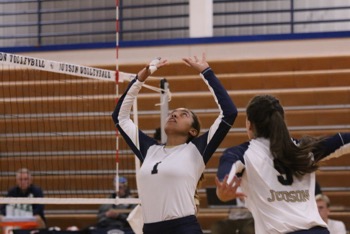 The Judson University Women's Volleyball team reached new heights as the Eagles for the first time in program history advanced the NCCAA National Championship Match in Point Lookout, Missouri, in early December. This fall was the first time the Eagles reached the National Tournament since 2015 and the fifth time ever. The Eagles improved their record by nine wins in 2019.