Judson senior Anali Cisneros of Elgin, Ill., was named the 2019 Student Laureate of the Lincoln Academy of Illinois. Every fall, a meritorious senior from each of the four-year, degree-granting colleges and universities in Illinois is awarded the Abraham Lincoln Civic Engagement Award and becomes a Student Laureate.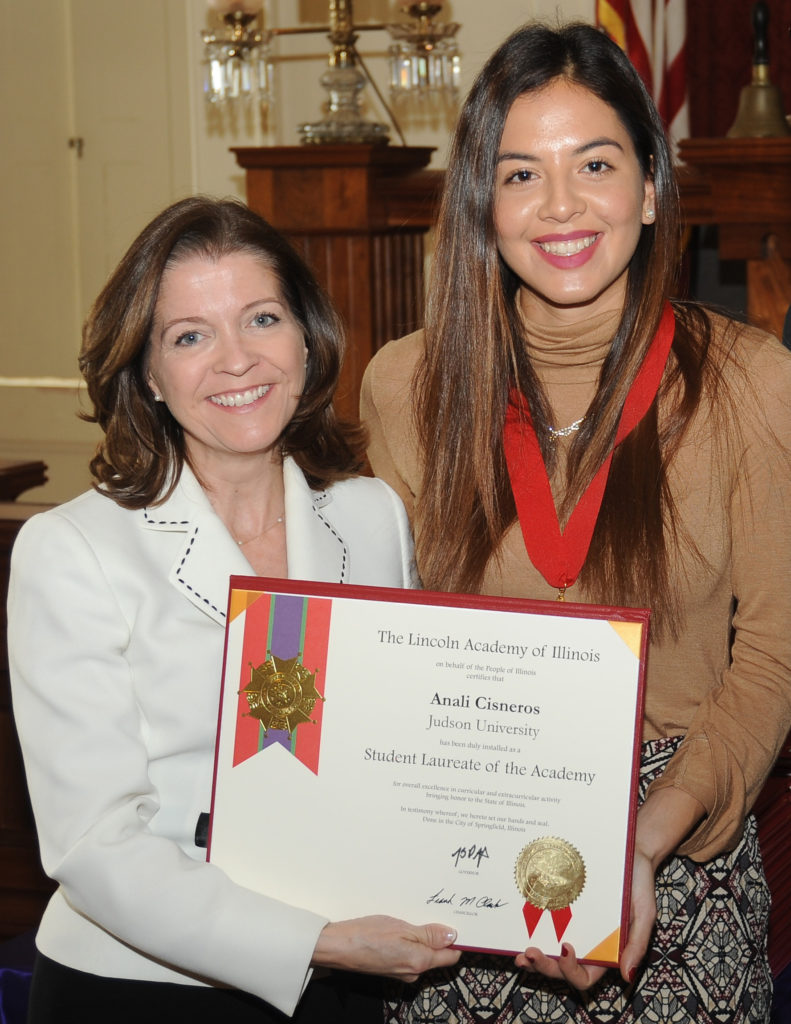 Cisneros is majoring in Biochemistry in the Honors Program, while balancing coursework, lab research and volunteering with her aspiration to be an Olympic race-walking athlete. Academically, she is known as an enthusiastic learner with excellent laboratory technique who excels at analyzing and interpreting data. She presented her honors research project on the Molecular Phylogenetic and Genomic Evolution of Rbm45, a Neural Development Protein, in Metazoans at the Associated Colleges of the Chicago Area Student Symposium last April.
Cisneros' athletic achievements are formidable. She has represented the USA Track and Field for the Pan American Race Walking Cup in April 2019 and placed 4th in the Women's 20,000m Race Walk for the USA Track and Field Outdoors. She is a four-year member of Judson's Track and Field and Cross Country teams. Cisneros is a five-time NAIA National Champion in Women's Race Walk winning three outdoor titles and two indoor titles. At the conference level, she has six CCAC championships (three outdoor, three indoor). She also received Judson's Women's Athlete of the Year award in 2018 and 2019, was a Women's Cross Country NAIA Scholar Athlete of the Year, and has been on the Dean's List every year.