Local football legend Mike Hohensee will join Judson as the Senior Advisor to the football program.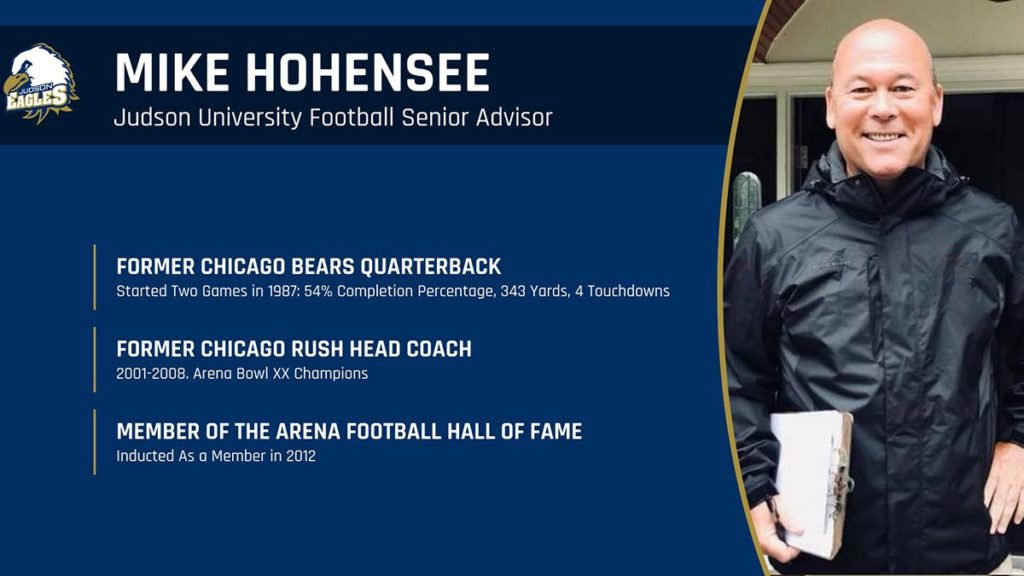 "We are extremely blessed to have 'Coach Ho' on board," said Judson University Head Football Coach Brandon New. "His experience and success both in life and on the field are second to none. Mike is a man faith who will impact our student-athletes daily."
Hohensee, 58, comes to Judson with a wealth of professional playing and coaching experience. As a player, Hohensee got two starts with the Chicago Bears at quarterback in 1987 and also played professionally in the Canadian Football League and the Arena Football League (AFL) after graduating from The University of Minnesota.
"I'm excited and honored to work side-by-side with President Crume and Coach New to ensure their vision for the Judson football program becomes a reality. This will be a faith-driven football program and that comes from the top," said Hohensee. "I see myself as an extra set of eyes with a lifetime of experiences with starting new teams and leagues. I love the fact that Judson University is bringing another college football team to Chicago!"
As a coach, the Inglewood, California native spent 26 seasons in the arena football league as he was the head coach for nine different franchises, including winning ArenaBowl XX with the Chicago Rush. In 2012, he was inducted into the Arena Football Hall of Fame.